Hello friends! The past few weeks have been less about making art, and more about making my studio a more productive, organized and inspiring place to work. I love a good before and after picture, don't you? 
As a mom of four kids, I am lucky to have my own home studio to work out of.  I appreciate being able to do a load of laundry or start dinner while waiting for a coat of paint to dry. I often have contemplated finding a studio outside the home as a way to connect with other artists and be more involved in the art community, but for right now, this works. 
The number one goal of my renovation was to make it feel more open, but there were many steps involved to make that happen. My first project was tearing down a wall that was dividing my space. This part was both terrifying and fun. I was able to do 99% of it myself, with the exception of one part where I called on my hubby, a.k.a. the brute squad.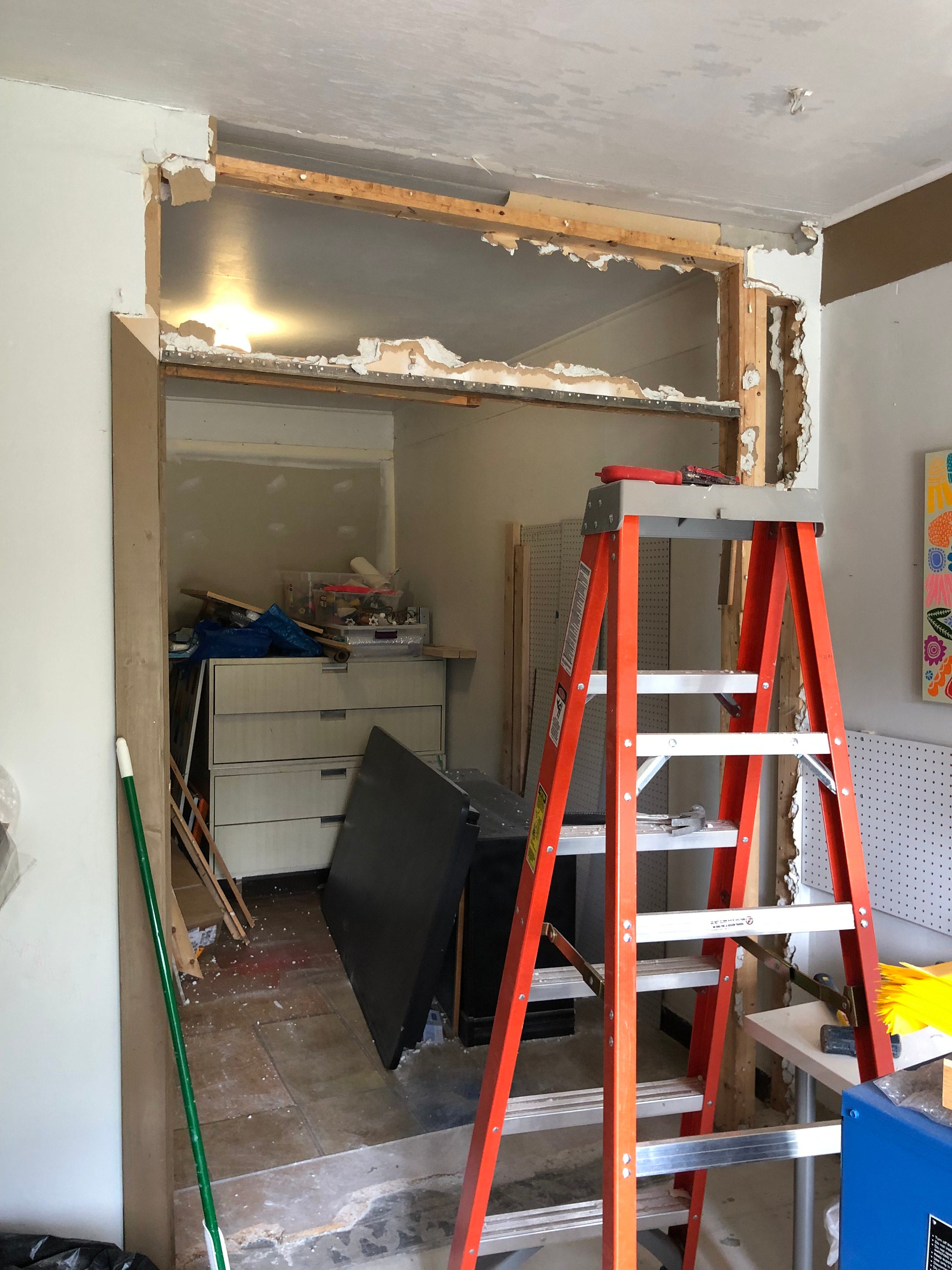 With a layer of old vinyl flooring covering only half of the room, I had to remove wooden subflooring as well as the tile to get everything on the same level. Between the wall and the flooring, there was a ton of debris. Not going to lie, demo was pretty intense! Once it was over, I was able to focus on all the fun things so it was definitely worth it. I opted for commercial grade linoleum tile that gave it a nice clean finish, without being too fussy. They were fairly easy to install and I look forward to not having to walk directly on cold concrete in the winter.
The walls got a simple coat of white paint to clean up the space.  I also installed some brackets on my walls to store the pegboard displays I use for my shows. This gives me a chance to keep them off the floor in safe keeping while also being able to enjoy my painting inventory. 
The last two steps were major splurges- storage and lighting. For storage I chose to go with some simple Ikea shelves called HEJNE. These wooden units are fairly simple to put together and I anticipate having them forever. I like the fact that it's unfinished wood and that I can change where my shelves are located with a simple  
click.
For the lighting I went with a simple track lighting kit from Lowe's called Lithonia. I could not be happier with the brightness in my studio now. The horrible quality of my previous lights prevented me from doing work at night, so this is definitely a game changer. The electricians also installed more outlets so I don't have to use extension cords for my lamps, kiln and sewing machine.
Now that everything is done, I realize that this process was way more of an investment of my time and money than I had anticipated. I'm so glad I didn't know, sometimes ignorance is bliss. But the work was worth it, my studio feels polished, open and more organized, so I know the investment was worthwhile. Now I can't wait to get back to work.